In all the excitement I forgot to update my blog. By excitement I mean buying a van with a 650 dollar oil leak and getting frisked by border patrol, "Hey sir if you keep your hand on my ass any longer you're gonna' have to buy me dinner." (;
So I flew to Arizona with no big-to-do. It was a wonderful flight with gorgeous scenery of Northern Utah and the Grand Canyon. I sat next to a stock broker and he talked for quite some time about stocks. After he was done I said flatly, "I spend most of my time living in a van." He looked at me and went back to his iPad.
The fella' I bought the van from was a nice enough dude. Didn't know much about vehicles. I was happy with the condition and despite the oil leak I decided to purchase her.

"Daddy I'm bleeding." ;_;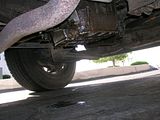 I am thrilled with my purchase, Winzling is such a nice van (She has a name now thanks to ihatemybike AKA Aaron)
A few surprises I discovered was the owner was meticulous about keeping records all the way up until 2007, he was also very handy and built a custom swivel seat. Another few surprises were the brand new shocks, full size spare, and Kenwood stereo unit and decent aftermarket speakers.
So it all evens out.

Quick picture I snapped before hitting the road from AZ. The wood is saturated with Marijuana smoke resin. Drives drug dogs ape shit. (;
I have an order and deposit in with Colorado Camper Van and will be leaving tomorrow for Drake. Derek was a great guy to deal with and I am positive the work he'll be doing will be ace.
Well, today is laundry, cleaning, and organizing day. Winzling is spending the night at the mechanics so my neighbors do not vandalize her.
I leave tomorrow early afternoon with a few fun stops along the way.
Until next time.
-Kyle