Yesterday

afternoon

while being slightly downtrodden I was aimlessly browsing Craigslist for Astro vans as all people who are addicted to Astro vans do in their spare time and slamming cups of coffee like a cracked out barista, when I came across a 2002 AWD GMC Safari with a Safari Condo conversion.
Needless to say I've since purchase this van and will be flying to Arizona on Monday the 26th to inspect the van an finalize the sale.
My brother and I after looking at some more photos seem to think it was once fully camperized with at least water and electric, maybe propane, inner cabinets and paneling, and a top bunk but was converted back to a cargo van somewhat.
I will find out when I go and see it Monday. Afterward I need temp tags to get it to California, then California tags and registration. Then I will be driving it to Colorado Campervans to get it re-converted, if only partially, flying back home to San Diego to watch my sister and brother-in law's place for two weeks, then back to Colorado to retrieve the van and then onward to get mom and on an adventure.
The wait begins! Meanwhile I have Cinnamon Toast crunch, the breakfast of diabetics.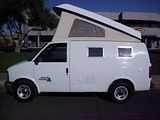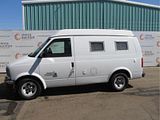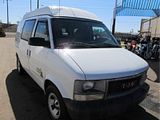 Also worth noting is that while booking my hotel room at Super 8 for next week I left this cryptic request for the staff. Let's see if it works.