I had originally started two threads, one on Astro/Safari and one on Expedition Portal. I am having trouble maintaining both so I decided I would start one blog to share with everyone. I appreciate the support you guys and gals have given me. It's really a great help to have your knowledge to draw from. Your builds and adventure reports are a big inspiration to me.
Here we go.
Friday March 4th 2010

9 AM. I am having my morning coffee when Missouri Dale the truck shipper calls me. My van is here! It was beautiful this morning so I drank my coffee on the overlook while waiting for him.
A big fat crow joins me to wait and squawks about something in particular. I don't speak bird...
Finally I spot Missouri Dale creeping up the hill with my van.
I notice the fuel door is jimmied. Dale explains how he had to turn the van around after it ripped open on the highway somewhere in Colorado.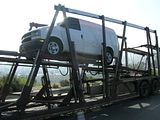 Ripped tab. An easy fix that Mike the dealer in Colorado who sold me the van said he'd pay to have fixed.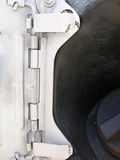 Missouri Dale begins to unload my van while I gum in his ear. He comments that the entire trip it looked like he was towing a giant metal marshmallow. The van now has a name, Marshmallow.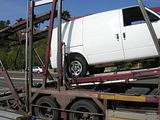 He won't let me take a photo with him so we part ways, I take a test spin in Marshmallow and then stash her somewhere.
Later that day while bringing the van to get washed the van is idling rough and the passenger mirror falls off somewhere in traffic. While looking over the van I find out the back door really isn't fixed like it's supposed to. Mike in Colorado agrees to pay for the repairs and cost of both.
I find the source of the annoying screeching noise every time I back up. I have to physically restrain myself from ripping it off the underside of the bumper because I have no back up camera yet. Soon my annoying screechy friend, soon...
International noise for "Something is about to hit me" SCREEEE, SCREEE, SCREEE.
The bulkhead. I plan to ditch the passenger side section and keep the driver side section to keep from getting nailed by flying debris.
Various scraps I don't need.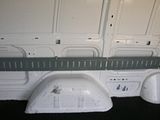 I discover Marshmallow comes equipped with not one 12V outlet, not two 12V outlets, but three 12v outlets!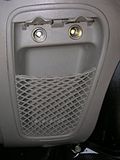 More photos will follow once my Amazon.com order comes through.