I got Marshmallow back yesterday in good working order.
Today I decided to install my speakers. It didn't go so well, I found out there was no way to remove the speaker grill itself and I was thwarted by the c clamp on my window crank handle and I required a special tool to remove it and the panel (easily) So I decided to hack the speaker grill to bits with the rage of 1,000 dead vikings.
No Joy.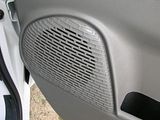 Chop chop chop.
I had to run down to Auto Zone so I put my handy Garmin 500 to good use and did not get hopelessly lost, yay! While I was down there I went to The Olive Branch on 3030 North Park Way and got some cotton insulation.
The haul.
We're not going to be cold this winter Miss Mallow.
Earlier in the day I decided to go ahead and patch some holes with JB Weld.
A holes. Mehehehe.
I feex.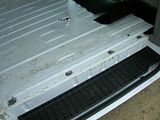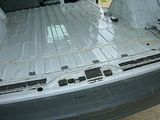 I left these bigger holes because they have some weird threaded collar on them I need to figure out how to remove. But they leak so they need to be removed and sealed.
And look what I found my hanging out my driver side rear door. The control arm!
I found this mysterious bundle of wires in the other door.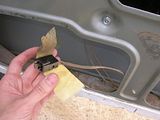 I tore the rubber doodad off so I can make 2 new sets of holes for my camera.
Tomorrow I will pry the doors off, hack up the other speaker grill, and install my speakers. Woo.