4-27-11. One thing I find with being on the road is you don't always want to stop where you find Wi-Fi to update your blog. So I'll make entries on my laptop each night and update my blog every few days.
We left Wednesday and I drove the first leg. It was pretty difficult, I had very little highway or long distance driving experience going into this, but I toughed it out and my mother took the second leg. We didn't really stop to see anything, just jetted North East out of San Diego toward Nevada. We stopped before sunset at Alton Canyon Dunn to camp, nice place. I am going to have to work on finding more free camping as even small camp fees can be pricey.
Stopped in Calico CA at this nifty ghost town-like place.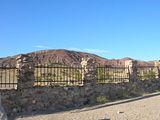 Good lookin' van. >;]
Mom behind the wheel.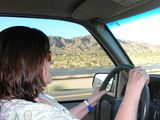 The long road ahead.
My abode, first night was...interesting, going to take some getting used to. Did a bit of light off roading to get here, Marshmallow is a champ.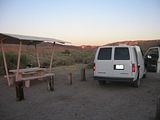 The first AM train and an awesome sunrise.