2-28-11, today we left Alton Canyon Dunn, I met a cool guy named Brian and his wife and he shared some awesome info on his GMC van he had converted into a toy hauler, then headed further North East to Nevada and over to the Hoover Dam before crossing into Arizona and headed toward the Grand Canyon. The Hoover Dam was beautiful, a ridiculous feat of engineering. After stopping in Meadow View AZ for food at the local market we asked for directions to somewhere to park and were directed to some HARDCORE off roading stuff. I was terrified, mom was terrified, but Marshmallow plowed through some hardcore gravel and rocks and up step rocky inclines.
We later found the RV park and were given a tent spot for the night. Here I sit typing this. It's windy, but the view is epic and the locals are friendly, you're doing WHAT with that van?
A dog named Isabella, I think she pissed on Marshmallow's tire. Her owner was a swell guy
The only water in the Mojave right now, and mom has her hands in it. Somewhere a mountain lion has the runs.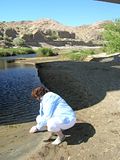 Who's awesome? Not this guy...
Now entering Nevada.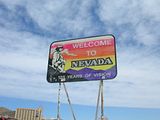 The Hoover Dam and surrounding area, no words needed, it's simply astounding.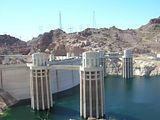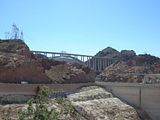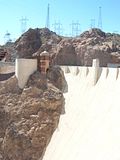 My awesome mom.
She told me to stand in front of the parking spot 11 sign. *Shrugs*
Now entering Arizona.
Off to the Grand Canyon tomorrow!