Yesterday I got the van registered so now I have plates and registration, woo!
Today I went and got some more expanding foam, a paint brush for the AFM Safecoat primer I got for my floor, and some hardware to mount my plates.
I got the plates mounted up, no photos of that though.
I also got the roof 95% insulated. I just need to daisy chain some zip ties to hold the wires from my tail lights, 3rd brake light, etc. I want them in the wall over the vapor barrier and insulation, not the roof, so I let them hang down when I insulated the roof.
I only filled selected gaps with expanding foam to protect the insulation in that area from traveling moisture. I actually used 2 cans because some of the gaps were very big.
On to the photos!
A few spots where I will secure my walls to the frame of the van, the expanding foam will act as a stop gap for heat bridges preventing water from building up on the end of the screws.
The stuff is messy and got everywhere...including all over my hands.
Glued my goddamn leg to the floor, ow.
I snipped off the shorted out aftermarket dome light. It will be wired to my house batteries anyway.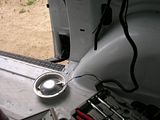 These crimpers rule!
The days work. Roof is done-ish, started on the walls.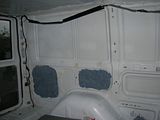 Tomorrow I can go grab some more expanding foam and a few more things and hopefully get the walls knocked out in a day or two.