Today started with a trip to Home Depot for a paint scraper and one last can of expanding foam. Yuck, I hate that crap. It's worse to get off your hands than the 3M adhesive. I also filled up Marshmallows tummy with yummy 87.
How she looked this morning.
A bit of expanding foam here and there.
Lots of insulating.
Smurf hands...
I scraped the disgusting grip tape off and cleaned up a good portion of the adhesive. It came in handy for scraping crap of the floor too.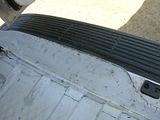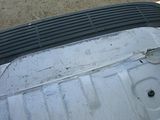 Tomorrow I should be able to finish the insulation on the walls and do a few random things like mounting my front license plate, securing some wiring etc. Waiting for my marine caulking to come in so I can patch some holes in the back door and insulate them.
After I get the walls buttoned up with vapor barrier and do a few more random chores I plan to panel the roof in 1/4" luan plywood. I went and priced some today. Then I will clean and paint the floor and rear door panels and build my insulated sub floor, then I will panel the walls.
After that I need to do some wiring, and install the roof vent, and stain the walls.
Once ALL of that is done the van is essentially finished AND I finally take her for a good cleaning. I am out of money by this time save for some money set aside for living needs. I'll add things over time.