Yesterday I got the roof vent installed and today I got it all buttoned up. I went down to a welder and asked to have a 3 3/4x 14" piece of rib from my roof I thought I needed for structure welded back in. Long story short he tried to screw me asking 500 bucks to do it, so off I went to another welder and he told me in long drawn out technical terms I don't need it, the van is over engineered for rollover protection and force would simply transfer to another rib in the event of a rollover.
So there is it, the vent is pre-wired, installed, and buttoned up. And I got some holes patched up. Tomorrow I can panel that last wall, perhaps re-do part of the driver side wall, insulate the door panels, and the day after I can paint the floor and door panels. It's certainly winding down!
I have a hat dad!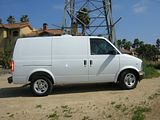 I didn't know if these vents were designed to face forward, just to be safe I mounted it with the hinges facing frontward so it doesn't rip open at highway speeds and make me very angry.
Not too shabby!
A little trim over those two sections and it will certainly look better.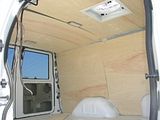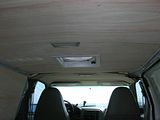 A bit of wiring to sort out.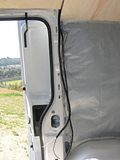 Patched some ugly holes in the floor. Now it's more ugly. :]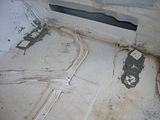 Bought a tool box to organize my crap so things weren't sliding all over when I drove.
2 WEEKS!