Paneled the passenger side wall and re-paneled the driver side front wall. I goofed on the passenger side so I hacked it up and frankensteined it, meh.
I have tons of scraps so I bought some pretty screws and added some trim, I just have a couple pieces of trim left to do, I'll do them tomorrow and get those doors insulated and buttoned up, then Friday I can paint the floor.
It's really coming together!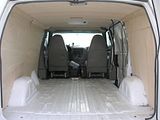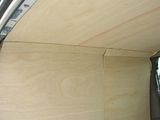 I like how the wood makes it look crisp inside. It'll look even better when I stain it!