5-27-11
was my last night in Fort Payne Alabama at The Little River Campground. I made my way East toward North Carolina and arrived at my campground in good spirits.
Home for the night in Murphy North Carolina at Hanging Dog campground. The place got it's name from a Native American who was canoeing along the river here with his dog. A low hanging branch caught the dog around it's neck and hung it, killing it instantly. The Native American didn't notice until he got home and after finding his dog the next day he named the are Hanging Dog.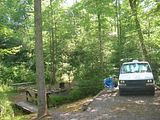 How to remove a tick head.
Not much happened besides a few hikes and a bit of relaxing.