The night of
6-29-11
was spent at another rest stop 75 miles East of Omaha Nebraska. They're actually very nice rest stops...shut up...leave me alone.
In the morning on
6-30-11
I made a short 3 hour jump to Lake Ogalalla Nebraska where I happily shelled out 10 bucks for some R&R. Money well spent as I recharged my batteries.
This way taken the day I got there on the 30th.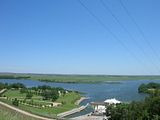 Afterward I promptly began relaxing.