So I ended up ordering a solar panel for my van to keep my chassis battery health and charged and to charge my house battery for lights, a vent fan, and soon to be a fridge.
I ended up going with a 100W Solar Cynergy panel and a MorningStar Sun Saver Duo which will allow me to charge two batteries at once. What's nicer still is it allows me to dedicate priority to one or the other batty.
I have it set to trickle charge my chassis battery and devote charging to my van battery because my van battery is in sad shape.
More than just surface charging my batteries, it will boost them and give them a super strong charge, lengthening their life.
I also swapped out my crappy smart solenoid isolator for a constant duty. It switches on when the van is started to connect the batteries for alternating charging, switches off and disconnects the batteries when it is off.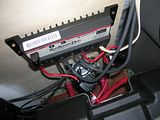 This falcon and a few pals were circling above making all sorts of noise.