Today I got the doors insulated, the final trim paneling done, paint prep and painting done. I honestly didn't think I'd get it all done today but I did! So now all that's left is to lay some 1/2" plywood on the floor, run some wiring and lighting, and stain the wood!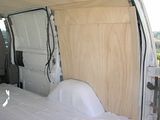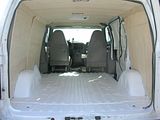 Perhaps I should have used a roller but I think the brush texture looks cool.
The paint was nearly stink free and very easy to work with, but very thick. I left it in the sun for a while and it helped.
1 week till mom gets here, a bit more till the adventure starts!