Another day of missed camp sites and troubles. I was done by the time I found my camp site in Forest Mississippi on
5-23-11
. I didn't even bother taking photos of the site. I was ready to quit, pack up, and head back West. I wasn't adjusting well, I had met trouble along nearly every step of the way. I enjoyed the area the best I could and in the morning had cooled down just enough to try and push forward to Alabama.
Skunk pig.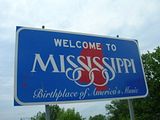 Someone got their asses kicked here a long time ago.
Turn off the faucet Davey.