My first true night alone in Cuero Texas was trying on
5-20-11
. I found myself very lonely and on the verge of tears. I took time to enjoy the municipal park but I was just out of sorts and seriously doubting myself. I awoke the next morning to fog and threatening rain and putzed around, then decided to make haste to Tomball Texas, my next campsite.
I wanted a picture of this tree but the duck army would not let me pass...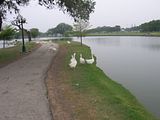 I settled for this, fearing being chewed to death by honking ducks. Creepy ravens in the tree.