Yesterday was extremely crappy. I was pretty much kicked out of Tomball Texas' local park. I should have known something was fishy when I spotted the no pinata sign. Communists! They pretty much told me I wasn't RVish enough and to leave...so I headed to my back up destination in the Sabine National Forest for the night of
5-21-11
.
Needless to say this was not any better and the State Troopers/Forest Rangers did not like me despite the fact I was following all the rules, they harassed me by banging on my van 3 times in the middle of the night...
Beautiful area, not so beautiful people.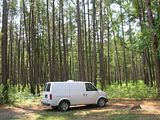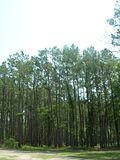 I made a cup of coffee, went for a jog, cleaned up, and high tailed it out of there.