I've been neglecting sorting and organizing my photos. But I'm finally getting it done and my blog is getting updated over the course of the next few days.
I left Corpus Christi on
5-20-11
with a fresh oil change, and a secondary battery and headed to Cuero Texas. I have to admit I was still a bit freaked out being new to this whole adventure thing. But, I made it to Cuero and spent my first night truly by myself.
Spare battery to jump start myself with, I'll be getting a 3rd identical to this and running all my house appliances and such off it.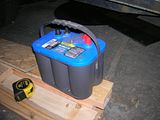 Fresh oil for Marshmallow.
Home while I hung around.