6-20-11
Mom and I visited the Norwalk Maritime Museum. We had tons of fun looking at the dinosaur exhibit. As always the animals were adorable.
Gigantic Vegetarians.
Mini Vegetarians, or fun size. Whatever you prefer.
REMOTE CONTROLLED CARNIVORES!
Meercats, all the photos came out like crap, they are twitchy little buggers.
This sea lion was molting. ;_;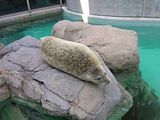 We are turtles...