Today I replaced the idle air control valve in Bones. She doesn't idle rough anymore, she actually runs like she has never been in a collision. I also ripped a bit more carpet out, and Aaron helped me get some of the hundreds of screws out.
Later we went downtown to zombiefest, and out for dinner. It was way fun.
Parts from the demolished front end residing under Aaron's van, Grumpy.
Facelift.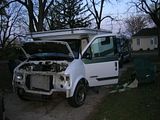 Aaron working at some of the screws. Notice the clean-ish stock carpet.
The disheveled rear of the camper.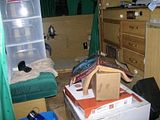 She runs great. Just a wee bit cold.
Then we went downtown, tons of fun.